This weekend was HP Lovecraft Film Festival, and man oh man, it was just as awesome as I hoped it would be. The Lovecraftian community is just such a great group of folks. Also, my lovely and talented friend Molly Tanzer was a guest at the convention, so we finally got to meet in person, which was absolutely divine.
Here's a great picture of some of us Lovecraft eZine fans sporting our gear: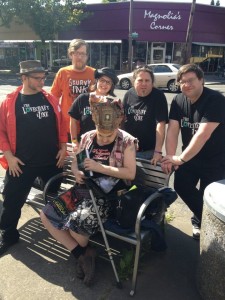 Speaking of Lovecraft eZine, Nick (in the hat) illustrated my story in this month's issue! I can't get over how perfect that mushroom guy turned out–exactly as I pictured.
After all the insightful panels, great readings, and terrific films, I feel incredibly inspired to create, and incredibly proud to be a part of the Lovecraftian community. Ia ia Cthulhu fhtagn!