December.
The sun sets before you get to leave work. The line at the coffee shop is at its seasonal high. The grocery store is always packed. You might get a few extra days off from work, but you'll probably spend most of them driving in slow-and-go traffic and icy, windy, or just plain miserable conditions. And I won't even start on the family gatherings. No matter how much you love your kith and kin, there's bound to be an awkward moment just waiting for you.
You deserve a winter pick-me-up!
And while I'd love to give everyone in the world a big glass of holiday egg nog (or my delicious vegan nog), I only have so many glasses. So instead I'm giving away two copies of the audiobook of Skinwalkers! It's just the thing to put on when you're headed over the river and through the woods, or when you're hitting the gym after too many cookies.
In fact, I'd go so far as to claim that Skinwalkers is the perfect holiday read. Reading about peril, mystery, and the threat of being eaten alive really helps put your own problems in perspective. Being forced to listen to twenty hours of Wham's "Last Christmas" isn't nearly as painful as being crushed by an ogre! And if you think your family has problems, wait until you hear about Jendara's. Still, it's that bond of love that matters in the end—and nothing warms the heart like a family coming together to fight all odds.
Plus, it's, well, free.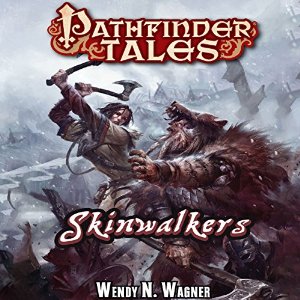 Just drop me an email at wendy @ winniewoohoo.com with the subject line "Free audiobook" before midnight on Thursday, 12/17—that's right, you can do it while you're waiting for the premiere of The Force Awakens to start! I'll draw two winners at random on Friday morning and let them know via email.