I am so, so excited for October 1st! I've been working on Queers Destroy Horror! for the last several months, and as I've watched the table of contents and the art come together, I've just gotten more and more thrilled.
First of all, there's the cover. It's a great cover–colorful, vibrant, and a weird blend of creepy and cute. Wanna peek?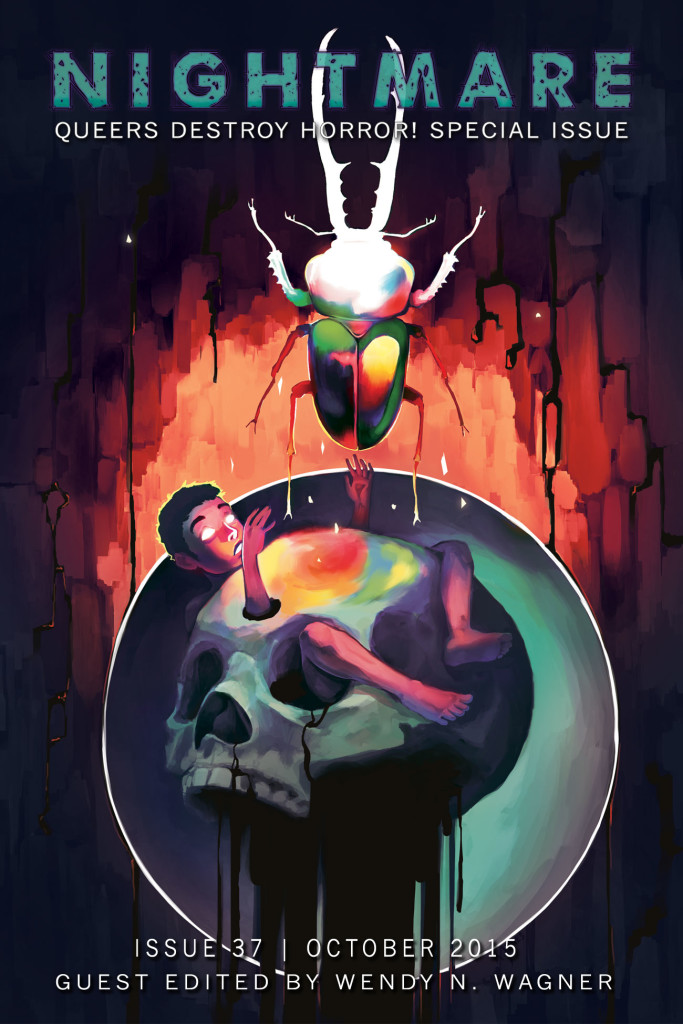 It really captures my vision for the issue's fiction, which I wanted to be polished, approachable, and creepy. Every piece had to appeal to my gut as well as my brain; every piece was selected because its language gave me goosebumps at some moment. Some of the pieces are immediately uncomfortably dark, while others have to be chewed on a bit before they elicit a solid surge of unpleasantness. I think horror is at its best when it makes you think about the world around you and the ways it can be cruel, dangerous, and downright gross.
Speaking of things that are downright gross, my love of the revolting brought me the biggest surprise of the entire issue. I'd fallen in love with a particularly nasty story by Chuck Palahniuk ("Top Potting," which originally appeared in his frame novel Haunted) and really wanted to reprint it in QDH. But Mr. Palahniuk surprised me with a fantastic original piece called "Let's See What Happens." It's a tremendously stylish piece filled with moments I didn't want to read, but found I couldn't not read. Like all the other stories in QDH, I adore it.
Here's the full list of fiction for the issue:
Golden Hair, Red Lips — Matthew Bright (original)
Alien Jane — Kelley Eskridge (reprint)
The Lord of Corrosion — Lee Thomas (original)
Rats Live on No Evil Star — Caitlín R. Kiernan (reprint)
Dispatches from a Hole in the World — Sunny Moraine (original)
Bayou de la Mère — Poppy Z. Brite (reprint)
Hungry Daughters of Starving Mothers — Alyssa Wong (original)
Let's See What Happens — Chuck Palahniuk (original)
All of the pieces are available Queers Destroy Horror's ebook and print editions (available on Amazon starting 10/1), and some of them will be featured in our online edition, where a new story will be released every Wednesday in October. And all the original stories have brand-new illustrations from our talented artists, like Plunderpuss and the Hugo award-winning artist Elizabeth Leggett.
Another great feature in QDH is our amazing poetry section. I love poetry and sometimes write it, and I've had the luck to work with Robyn Lupo on several poem revisions. Robyn is a wonderful poet and a terrific writer; she's also one of our Assistant Editors at Lightspeed Magazine. Since I know a handful of poets who work in the dark arts, I knew my special issue of Nightmare had to include a poetry section, and I knew Robyn was the only person for the job. She picked out eight tremendous pieces that explore the beauty in darkness that I know I'll be reading and re-reading for years.
There's more to QDH than just fiction and poetry, though. The nonfiction is terrific! I love good nonfiction and knew we had to have an amazing nonfiction editor. Picking Megan Arkenberg for the job was a no-brainer. She commissioned challenging, engaging work for the issue that really dig into queer issues and rip into the flesh of the horror genre.
Queers Destroy Horror! is my first solo editorial project, and I've been thrilled and awed and terrified to make it and put it out in the world. It's not just a special issue of Nightmare, but a celebration of the tremendous community of LGBTQIA creators in the horror genre. I've felt so humbled working with these talented writers and artists. I'm so lucky to get to know them and listen to them. They're some of the best people I've ever known.
So order a copy and snuggle up under the covers as the chill of fall settles over you. And as the ghoulies and beasties go bump in the night, remember: it's only horror. It can't destroy you–unless you let it.