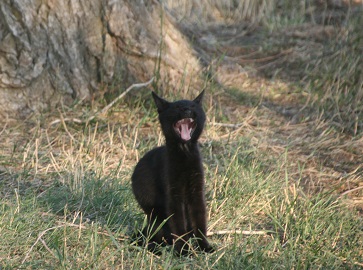 It's been a fantastic summer, full of camping, gardening, road trips, and lots of silly family activities. But now it's September, school is back in session, and I'm back to my regular routine.
On the editorial front, I've been working hard to get Women Destroy Horror! and Women Destroy Fantasy! off to the publisher. I just learned that they have been formatted and sent to the proofreaders, so I'm feeling good. There's a lot of great material in these volumes, and I think people will really enjoy them. I'm also really excited because in August Lightspeed took home its first Hugo award! (For pictures of her rocket, check out the September Editorial.) It's pretty awesome working with this amazing team!
I have been doing some writing, of course. I'm making slow headway on a novel that's percolating for the last eight months or so; the only thing I can tell you about it is that it has the word "Dogs" in the working title! However, I've been working on some other exciting projects that I am dying to talk about … and can't! Stay tuned. 🙂
Next week on Wednesday the 10th, I'll be taking part in SFWA's Pacific Northwest Reading Series, held quarterly at the Kennedy School here in Portland. You can buy yourself some delicious beer and tots and listen to cool writers reading their work and sharing the secrets of the universe. Who wouldn't want that? For more information, check out the SFWA site.