First, a quick update: if you're in the Portland metro area, then this weekend you should totally stop by StoryCon at the Fort Vancouver Regional Library! There will be great panels and readings from area authors, and the Friends of the Library will be having a big sale, too. Plus, it's totally free, and I'll be there! I'm sitting on two panels–Game of Tomes: Binge Reading and the Rise of Series (11:30 in the Klickitat Room) and a little later, The Paranormal as Metaphor (1:30 in the Klickitat Room). I hope I'll see you there!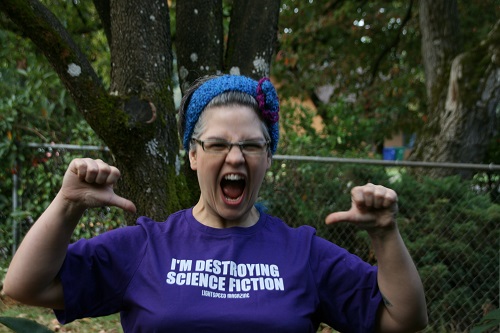 Women Destroy All Genres continues apace! If you haven't yet checked out Women Destroy Fantasy! and Women Destroy Horror!, we're still posting new material on the website. Of course, for all the awesome destruction (including my essay and printable reading guide), you'll have to pick up the ebook or print editions. Here are a few more updates about the project:
Women Destroy Science Fiction! was selected Book of Honor for Potlatch 24.
Skiffy & Fanty posted a great review of Women Destroy Fantasy!
and best of all …
We have t-shirts! Check them out at the Lightspeed Zazzle store.
And that's about it for now. But I can promise plenty more trouble coming soon.