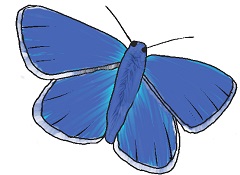 Three years ago, I planted a bare root apple tree. When it came in the mail, it looked like a stick with some squiggly roots sticking out of the bottom, but planting it felt momentous. Someday–I didn't know when–that stick, if I was lucky, would grow branches,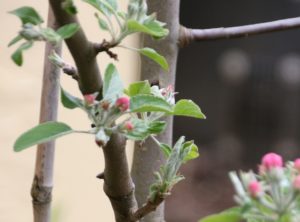 take over my yard, and even produce delicious apples. It's not there yet, but this spring it has produced its first blossoms.
But the apple tree isn't the only thing bursting into flower in my garden! All the spring ephemerals are doing their thing. Many of the daffodils have already wrapped up their show for the year, but the muscari and bluebells are still going crazy, and the strawberries are beginning to get in on the action.
Here's a picture of my new strawberry bed: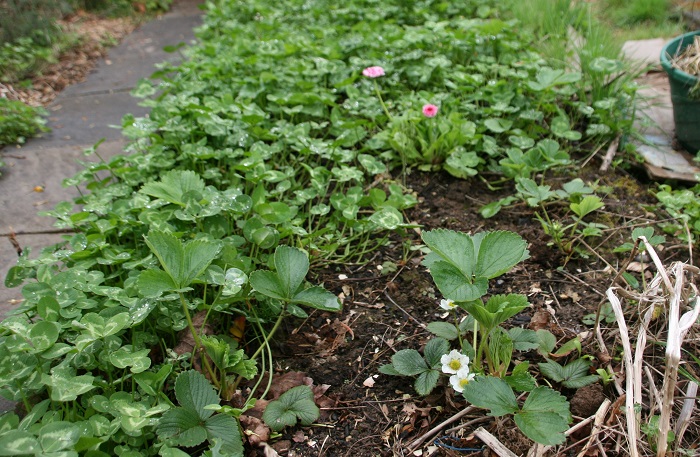 The strawberries in the foreground are easy to pick out, because I transplanted them this spring to an area that was freshly weeded. The other strawberries are hiding in the lush clover growth. Every few weeks, I'll give the clover a smart haircut, which causes it to prune down its roots. Since clover is a nitrogen-fixer, every time it sheds bits of roots, it sends a flush of nitrogen into the soil that feeds my berry plants. I just leave the chopped clover on the ground, where it adds organic matter to the soil.
At the beginning of last year, this bed had suffered from terrible erosion, and the soil refused to hold water. I topped it up with compost and planted a mix of clover and flowering plants. After about three weeks of chop-and-drop mulching (cutting the leaves off the clover and leaving them on the soil surface), water stopped sluicing off the bed when I watered the plants. After three months, the soil was visibly deeper–the bed had gained about half an inch of height, and the top two inches of soil were now fluffy and dark, perfect for strawberries.
Since I'm a writer, I tend to think of gardening as "worldbuilding." When I start a new story or novel, I have to sort out the relationships between the different plants, creatures, and people in the worlds I'm imagining, because nothing lives on its own. In my garden, the other plants have a real effect on each other, and I have to keep that in mind. My strawberries love living with clover, and last summer I accidentally brought a cucumber plant back to life when I planted a bed with wheat and vetch cover crops that apparently sheltered and nourished my withered cucumber. If I keep these things in mind, I can make my garden a far more vibrant place than if I just grow my plants in isolated, sad strips of dirt.
Here are some other pictures from the garden today: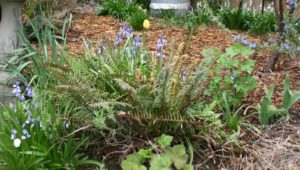 This fern and this heuchera are native plants who have just found their way into my garden. When we first moved into this house, none of the plants you can see were here at the base of the birdbath (except the very stringy lavender plant that's currently hidden under the fern). A massive (and massively needy!) rosebush covered most of this. I finally gave up on nursing it along this year and dug it up.
I just love our birdbath and so do the local birds! Squirrels really like to hang out in it, as well. I think the way the water is reflecting the cherry blossoms is just exquisite.