Science Fiction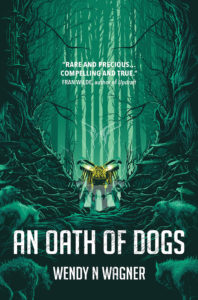 Kate Standish has been on Huginn less than a week and she's already pretty sure her new company murdered her boss. But extractions corporations dominate the communities of the forest world, and few are willing to threaten their meal tickets to look too closely at corporate misbehaviour. The little town of mill workers and farmers is more worried about the threat of eco-terrorism and a series of attacks by the bizarre, sentient dogs of this planet, than a death most people would like to believe is an accident.
When Standish connects a secret chemical test site to a nearly forgotten disaster in Huginn's history, she reveals a conspiracy that threatens Standish and everyone she's come to care about.
A Locus bestseller!
RUSA 2018 Reading List honor title
Click here to read an excerpt.
What are people saying about An Oath of Dogs?
"A compelling tale of corporate intrigue and biology, set on a thoroughly imagined world. Perfect for any fan of eco-science fiction and world building. A really great read." — Pat Murphy, author of The City, Not Long After and The Falling Woman
"An Oath of Dogs nails the rough-hewn feel of a frontier town, then mixes it up with intergalactic corporate intrigue and alien biology.  It's like Lake Wobegon mashed up with a Michael Crichton thriller, as unlikely a melding of cultures as the world of Huginn itself, creating a story that mashes massive questions of religion and ethics together with the joy of science and discovery." — Ferrett Steinmetz, author of the 'Mancer series
---
Pathfinder Tales—The Jendara novels

Once a notorious pirate, Jendara has at last returned to the cold northern isles of her birth, ready to settle down and raise her young son. Yet when a mysterious tsunami wracks her island's shore, she and her fearless crew must sail out to explore the strange island that's risen from the sea floor. No sooner have they delved into the lost island's alien structures than they find themselves competing with a monstrous cult eager to complete a dark ritual in those dripping halls. For something beyond all mortal comprehension has been dreaming on the sea floor. And it's begun to wake up…
For a sample chapter, visit the Tor/Forge Blog.
Available in paperback, ebook, and audio at Powell's, Amazon, and Barnes & Noble.
What are people saying about Starspawn?
"What a wild ride this one was! I enjoyed this story from start to finish and never looked back," — Geeks of Doom
"Starspawn is everything I could have wanted out of a sequel to Skinwalkers and more. It pulled me in right from the start, and didn't let go," — The Grassy Gnoll
"Starspawn is the type of book that brings out the kid in me. There's so much going on and written in such a way that each event builds on top of the other creating a crazy ride. It's books like this one that remind me why I love fantasy and renew my love for the genre," — The Qwillery

As a young woman, Jendara left the cold northern isles of the Ironbound Archipelago to find her fortune. Now, many years later, she's forsaken her buccaneer ways and returned home in search of a simpler life, where she can raise her young son Kran in peace. When a strange clan of shapeshifting raiders pillages her home, however, there's no choice for Jendara but to take up her axes once again to help the islanders defend all that they hold dear.
From author Wendy N. Wagner comes a new adventure of vikings, lycanthropes, and the ties of motherhood, set in the award-winning world of the Pathfinder Roleplaying Game.
What are people saying about Skinwalkers?
"Surprisingly introspective, the book is a meditation on motherhood and familial loyalty, but also packs a narrative punch," — B&N Sci-fi & Fantasy Blog
"Characters that I want to know more about and would love to sit with in front of a roaring fire," — Doubleshot Book Reviews
"Exciting, fun, and extremely well written," — The Grassy Gnoll