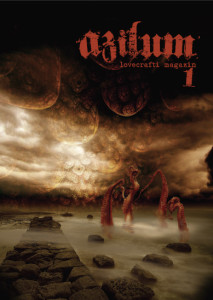 If you live in Hungary and you love Lovecraft, there's a new magazine to check out—Azilum. It's an actual paper magazine, edited by Gábor Somogyi, and while I have no idea if it's a good read (Hungarian was definitely not a foreign language offering at my high school!), I'm pretty excited to have my story "Curvature of the Witch House" reprinted in their inaugural issue.
If you're not in Hungary, you can still read "Curvature" in the archives of Innsmouth Magazine.
While I've had work translated before, this is my first foreign Lovecraftian reprint, so I'm one happy nerd!