Today the fabulous Lovecraft eZine previewed its May issue, featuring all stories by female writers. I'm so excited that my story "God Serum" is going to be one of them!
Here's the wonderful and slightly eerie cover art for the issue, by my friend and muse, Galen Dara: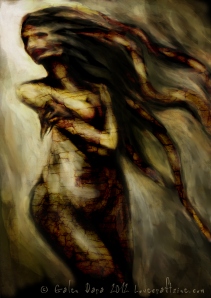 I'm also excited because the weekend this story goes live is also the H.P. Lovecraft Film Festival! I'm attending on Saturday as a fan, but I hope to run into you!