Okay, I am about 3/4s of the way through with Doctor Sleep, and I can't wait to get back on the couch and finish it. Say what you will about Stephen King, the man is a master of getting you to turn the pages. For example, I just got to a point in the text with the sweetest fan-service reveal of any sequel. It's set up in a way that even those folks who haven't read The Shining will find it clever and meaningful, but if you've read the first book, you will do a little happy dance. And while the great SK usually does a good job creating interesting villains, this time around he's made a pack of horrible monsters that I really can't help liking. A lot. I *almost* don't want them to lose!
After I get done reading this one, I definitely want to go back and dissect the plot. I think it will really help me with the project I'm working on right now, and it will help me do a better job planning for fun twists, turns, and pay-offs in my writing.
Besides reading a really fun book and writing, I've been working hard to eat this: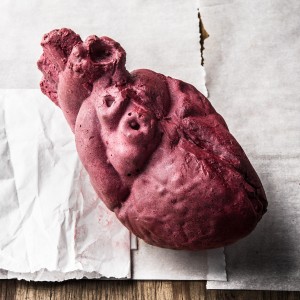 Surprise! It's chocolate!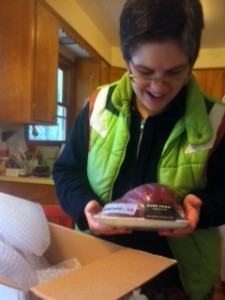 It's not just any chocolate, but two pounds of scrumptious dark chocolate with bits of crunchy cookies swirled inside. It was an amazing, generous gift from my brilliantly talented friend Brooke Bolander, and it came wrapped on a meat tray, with spots of food coloring seeping down under the plastic like real blood. SO WRONG and SO COOL.
If you need a super-cool gift for a chocolate lover, you would be wise to check out the folks at Dude, Sweet Chocolate.
Happy Thanksgiving to everyone! I hope it brings you lots of deliciousness and a heart full of gratitude.